Stuffed Bell Peppers with Rice
Stuffed Bell Peppers with Brown Rice and Soybeans
Total time: about 40 minutes
Makes: 2 servings
Ingredients:
1-deciliter uncooked brown rice
1-deciliter soybeans
2 bell peppers
3 tablespoons tomato purée
1 teaspoon green curry paste
½ teaspoon ground cumin
1 tablespoon turmeric
1 tablespoon chia seeds
1 tablespoon flaxseeds
2 slices of vegan cheese
Herbal salt
Directions:

First, you cook the frozen soybeans for about two minutes, just follow the instructions on the package. In the meantime, you take forward all the other ingredients and turn the oven to 200 degrees Celsius. Then you put the soybeans on a plate. After that, you start cooking the brown rice. Follow the instructions on the package, use a pinch of herbal salt.
While the rice is cooking you slice off the top of the bell peppers, then you core them and rinse with water, so all the seeds are gone.
When the rice is cooked you put the spices, the seeds, the green curry paste and the tomato purée in the rice and mix. After that, you pour the soybeans to the mixture. Use just a tablespoon when you mix the ingredients.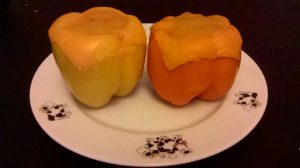 Now you're ready to fill the bell peppers with the mix. And on top of them, you place a slice of vegan cheese. After that, you put the bell peppers in the oven. Take it out when the cheese starts to melt.

Serve with avocado and nuts, for instance, peanuts or cashew nuts. Hope you enjoy these tasty stuffed bell peppers with rice and soybeans! 🙂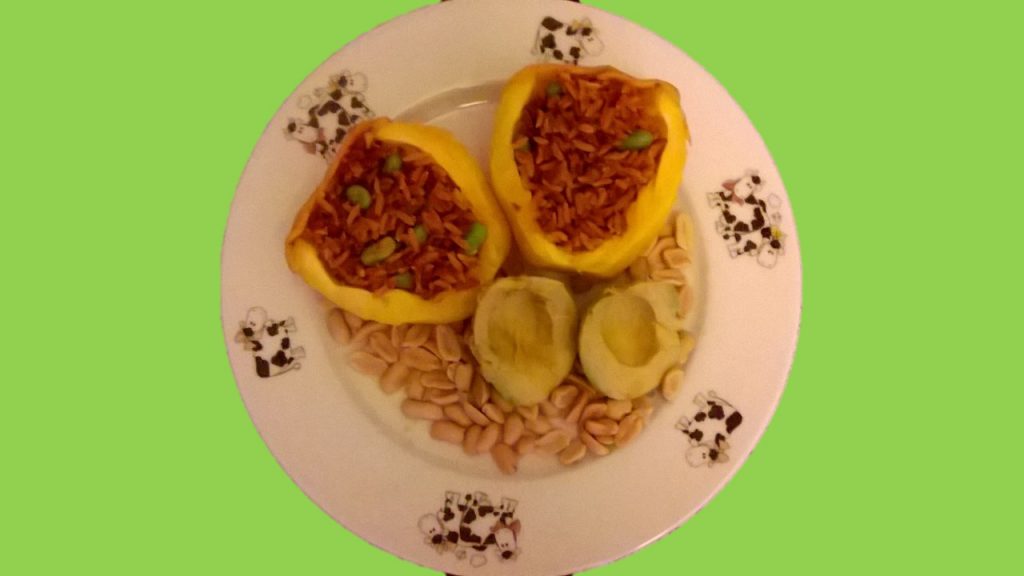 Facts about peanuts
A peanut is not a nut; it belongs to the legume family who makes peanuts related to soy, lentils, and beans. Sometimes these nuts are called "ground peas" or "ground nuts" since they grow underground.
Peanuts are high in protein, and they contain lots of minerals; zinc, magnesium, potassium, iron, phosphorus, copper, selenium, and manganese. They are also a rich source of vitamins B1, B2, B3, B5, B6, B9 and vitamin E. These vitamins are great for the brain! Peanuts is also a great source of resveratrol which may protect you from heart disease, cancers, Alzheimer's disease, degenerative nerve disease, fungal infections and may reduce the risk of getting a stroke.