How We Saved Tru Calling
One day in the beginning of June, when the birds were singing and the sun was shining, we turned our cows and calves out to pasture. We expected it to be a calm and joyful day since all of us loved to see our cattle run around after the long winter which they spend in the barn. Even my big sister had come home that day with her little girl to share the cheerful moment.
Everything went well when we let the old cows out from the cement and timber barn. They frisked in the spring sunshine, kicking up their heels and chasing each other across the pasture grass. But our barn lies next to the road and as one of our Swedish lowlands heifers was on her way out a tractor passed. She got spooked!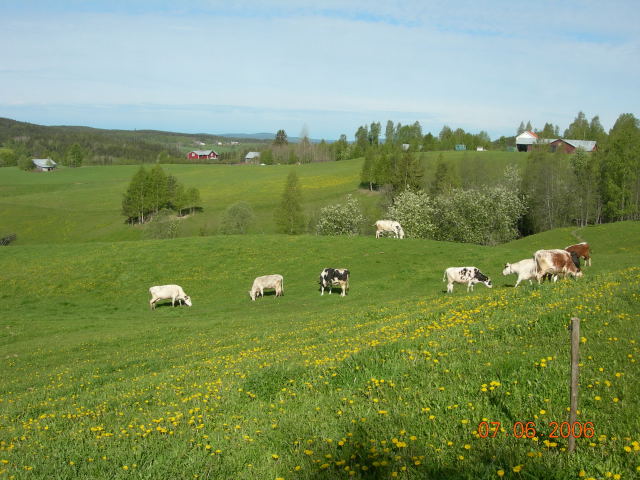 Tru Calling just ran. Nothing could stop her! This was the first time she felt grass under her hooves as she was born just before New Year's Eve. My little sister Anette and I marveled at how our black-and-white spotted friend fled over the fields. We ran after her, but it was pretty hard to run in boots and some hills were fairly steep. Eventually, we lost her. She had disappeared into the forest next to the river.
Anette, our father and I separated to search for her in different directions in order to find her quicker. My big sister also helped us to search but unfortunately, she was super pregnant so she had to go home after a while.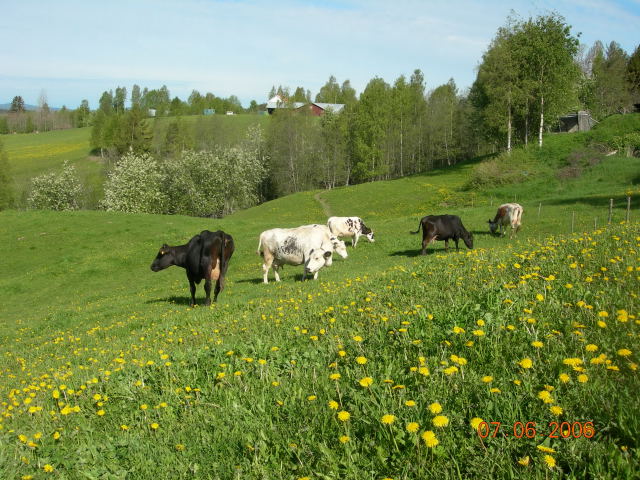 Suddenly, I heard Anette scream that Tru Calling had fallen into the deep river! I ran but my father was closer so he reached them first. When I got there, I saw my sister in the rapid, dark water, with her arm around Tru Calling. The water was ice cold with the melt from the mountains. Father insisted we pull Anette out before helping Tru Calling.
"No!" Anette looked straight at him and spoke with a determined voice. "I won't leave my friend alone."
Father knew that there was no time to argue about it. He sighed. "Here." He held out a rope with a halter in the end of it, "catch it!" And then he threw it to his daughter.
Anette caught it and managed to put the halter on Tru Calling who didn't put up too much of a struggle. Maybe she understood that my sister only wanted to help her, maybe she understood that it was a matter of life or death. "You can pull her up now" Anette shouted to my father and me.
With a joint effort, we succeeded in pulling Tru Calling from the water while Anette pushed her from behind. The poor heifer trembled with fear when she finally felt solid ground under her hooves again. I tied the end of the rope around a tree while my father pulled up Anette who shivered with cold.
But we couldn't walk home right away since we were at the bottom of a very steep brushy slope. It was impossible for us to make Tru Calling climb up there, we just slid back to the river bank. Our father hurried home for the tractor. It felt like an eternity before he came back, since we were holding our friend by the halter all the time to make sure that she wouldn't fall into the river again. The ground wasn't flat anywhere at that place! Anette froze since she was soaking wet and I didn't have much strength left in my arms.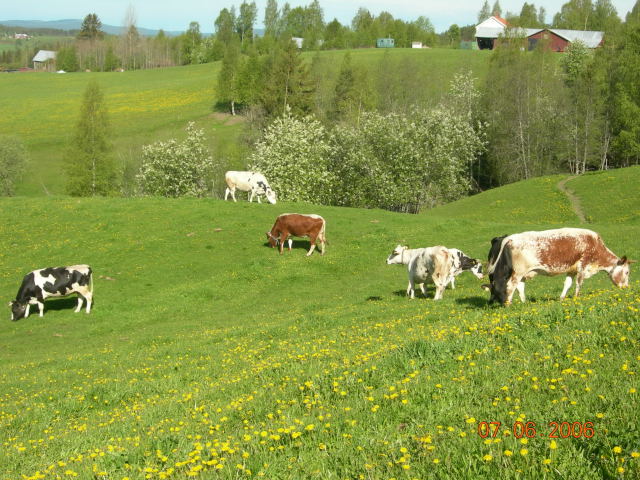 It was scary being there at the river bank since I felt lost. It wasn't our land. We had barely ever been there although it was just about a kilometer away from our farm as the crow flies. You see here in Sweden the land is divided in small pieces among the neighbors, which means that you end up owning land here and there. We only have about a few hectares below our barn and to get to our other land we have to drive down to the lake that lies in the middle of the village. And I have always felt lost when I have been on our neighbors' land, it just hasn't felt good being there. On our land, I know every rock and root, but there at the river bank it was like being in another country with the deep ravine and all the bushes that grew there.
Finally, father came with the tractor and then we managed to get Tru Calling up with a longer rope which was tied in the tractor. We took it slow so she wouldn't get hurt. The tractor pulled and Anette and I pushed her from behind. We took a breather when all of us at last stood at passably flat ground again.
After we had rested for a while Anette and I walked home with our friend who walked calmly as a dog. Tru Calling got lucky since she didn't break any bones. It was nice to see my beautiful friend happy again among her family in our enclosed pasture-land!
That is certainly one day that I never will forget for as long as I live. Tru Calling ran away in the morning and it was afternoon before we got her back home again. I was exhausted since we hadn't had any time to eat. But then I just smiled when I watched Tru Calling suckle her mother.